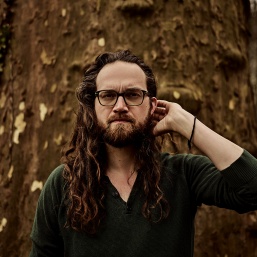 Bio
DUTCH
Florian Wolff wil de wereld twee dingen nalaten: een enorme catalogus vol mooie liedjes en... niets. Want ondanks zijn niet geringe schoenmaat streeft Florian naar een zo klein mogelijke voetafdruk. Met The Nature Of Things zet hij daarmee alvast een stap in de goede richting, want de liedjes op de plaat klinken zo warm dat je de kachel de komende winter zeker twee graden lager kan zetten.
The Nature Of Things is de tweede langspeler van de Groningse singer-songwriter. Waar het debuut Catching Up, Standing Still uit 2008 nog samengevat kon worden als 'een collectie pakkende liedjes' zijn er nu meer woorden nodig. Met enkel wat ruwe schetsen stapte Florian de studio in. Daar kneep hij zichzelf uit als een spons, en alle invloeden die hij in zijn muzikale carrière opdeed stroomden naar buiten. Samen met die invloeden gebruikte hij de studio als speeltuin. Conventies werden aan de laars gelapt. Alles mocht, niets moest. Zo ontstond een organisch album, oerkrachtig, dicht bij het hart. Geen kop, geen staart, één en al body. Dynamisch als geheel, gebonden door de persoon die Florian is: warm, vriendelijk en optimistisch. Een tikje rauw, maar vooral kalm en zacht. Als een knuffelbeer met een stoppelbaard. Een eikenhouten tafel vol koffiekringen.
Maar Florian is niet alleen warmte en rust. Hij is bovenal duurzaam. Niet als modetrend, maar als levensstijl. Florian ademt duurzaamheid. En dat houdt niet op bij de natuurwinkel waar hij een paar dagen per week werkt. In 2010 zette hij de Green Tour op: een tour met een 'groen' podium dat energie haalde uit de zon, de wind en... het publiek. Ook het artwork van The Nature Of Things is verantwoord, dankzij het gebruik van gerecycled papier en milieuvriendelijke inkt. En het is mooi. Zo mooi zelfs, dat Florian besloot om van het standaard formaat af te wijken. Of dat praktisch is? Niet per se, maar je hebt zo behalve een cd ook een schilderij in handen. Met een haakje, om het op te hangen.
Je begrijpt, Florian heeft geen angst om op zijn bek te gaan. Gelukkig maar, want zo bleef hij niet onopgemerkt. Hij was finalist in de Grote Prijs van Nederland en Serious Talent bij 3FM. Hij speelde supportshows bij Boris, Bertolf en Miss Montreal en hij kan Floortje Dessing, Femke Halsema en Jan Douwe Kroeske tot zijn fans rekenen. Hij speelde in Paradiso, de Melkweg, Tivoli, 013 en Doornroosje, en op festivals als Indian Summer, Festival aan de Werf en EuroSonic. En hij speelde op Lowlands. Niet één keer, maar zes keer. Tot nu toe...

Florian's vaste begeleidingsband bestaat uit: Joost van Soest (drums), Tjidde Hofstra (gitaar), Ruurd-Jan de Meulder (bas), Marlon Penn (gitaar/toetsen) 

ENGLISH
Florian Wolff wants to leave the world two things: a huge catalogue filled with beautiful songs and… nothing. Because, despite of his rather large shoe size, Florian aims for leaving a footprint that is as small as possible. He takes a step in the right direction with The Nature of Things, since the songs on this record will make you want turn down the heat two degrees come winter.
The Nature of Things is the second album by the singer-songwriter from Groningen. While his 2008 début Catching Up, Standing Still could be summarized as a 'collection of catchy songs', his second album needs more words. With nothing but a few rough outlines Florian went into the studio. There he wrung himself out like a sponge and everything that influenced him during his musical career came flowing out. Together with these influences he used the studio as his playground. All conventions were binned. He could do anything while nothing had to be done. That is how a organic album came to be, powerful and close to the heart. No head, no tale, just body. Dynamic as a whole, tied together by the persona Florian Wolff is: warm, friendly and optimistic. There is a dash of rawness, yet it is mostly calm and smooth. Like a teddy bear with a one day old beard. An oak table smeared with coffee stains.
Florian is not only represented by warmth and quiet. Above all else he is sustainable. Not because it is fashionable, but as a way of life. Florian breaths sustainability. And that does not stop at the reform shop he works in two days a week. In 2010 he started the Green Tour: a tour sporting a 'Green Stage' powered by the sun, the wind and… the audience. The artwork on The Nature of Things also is durable, thanks to the use of recycled paper and environment friendly ink. And the result is beautiful. In fact its beauty made Florian decide to deviate from standard measurement. Next to having a record you also have a painting. The peg is included to put it up on the wall.

It's understood that Florian is not afraid to bump his head. And that is a good thing, because that got him quite some attention. He was in the final round of the national music competition 'De Grote Prijs van Nederland' and he was selected as 'Serious Talent' by Dutch radio station 3FM. He took stage at Paradiso, de Melkweg, Tivoli and other popular venues and played at music fests like Eurosonic. Also he played at Lowlands. Not once, but six times. 'till now…        
Florian's band consists of the following musicians: Joost van Soest (drums), Tjidde Hofstra (guitar), Ruurd-Jan de Meulder (bass) and Marlon Penn (guitar/keys)